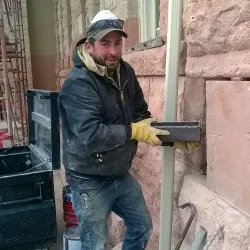 Mountain Masonry has been a family-owned and operated company since 1979. With three generations of experience we are able to reach a level of craftsmanship unmatched by any other masonry contractor.
Our company has experience in residential, commercial, industrial and governmental masonry projects.  We give free estimates, specialize in custom masonry design and are capable of producing shop drawings and 3D models that can speed up any project.
Colorado Masonry Contractor
We are Colorado's premiere source for custom stone, brick, and block construction, as well as masonry restoration and repair in both residential and commercial. Mountain Masonry takes personal pride in their work, recommending only the finest materials and techniques for each application.
Our top goal is always to get the job done right, on time, and on budget for your new construction, design work, or restoration masonry project. We do a wide variety of work on homes and commercial buildings, including:
New Masonry / Brick Construction
Masonry / Brick Restoration
Masonry / Brick Reconstruction
Masonry / Brick Renovation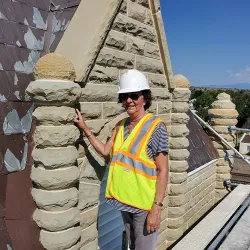 We're a locally owned and operated company based in Cañon City, Colorado that is dedicated to delivering high-quality commercial / industrial and residential masonry services. Because we offer a highly experienced staff and quality workmanship with all of our masonry projects, we are frequently referred to new clients by home inspectors, realtors, insurance companies, and other contractors.
Mountain Masonry offers masonry services through Colorado, Wyoming, Utah, and New Mexico. Call or email us for a building inspection or proposal for your masonry project. We offer a wide range of masonry services including home building, general contracting, masonry repair and renovation, brickwork and repair, tuckpointing, fireplace masonry repair and restoration, chimney repair, and masonry waterproofing.