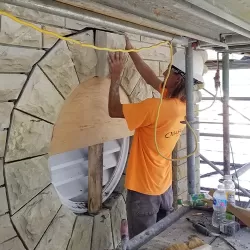 Mountain Masonry remains committed to bringing craftsmanship and masonry techniques that respect a structure's history and allow us to be its responsible stewards. Our expert masonry work is done to restore a façade, replace deteriorating concrete, or find the perfectly matched brick.
We restore buildings of generations past while taking meticulous care to honor their character and history. Whether clients require a one-time masonry repair or seek to preserve a decades-old building, we tailor our approach for their needs. Mountain Masonry provides expert masonry restoration and repair services such as:
Historic Landmark Restoration and Preservation
Lintel Repair
Masonry Stabilization Services 
Stone Re-Point, Repair, & Replace
Structural Inspections and Repairs
Building Envelope Repairs
Our team of masons, tuckpointers, carpenters, and highly specialized preservationists use traditional techniques and state-of-the-art technology to protect and preserve historically significant structures for generations to come and have earned reputation as experts in historic restoration whether as independent consultants or working as part of a team of architects, engineers and contractors.
Since 1979, Mountain Masonry has helped keep these treasures in exemplary condition thanks to our masonry renovation and restoration services in Cañon City, Colorado. We specialize in masonry restoration beyond repairing cracked bricks and replacing loose mortar joints. Our highly skilled artisans understand what it takes to preserve the history of our historical buildings.
We restore residential and commercial historic structures to boost their lifespan and preserve their status. Our masonry professionals thoroughly inspect the building before recommending repairs. We provide cosmetic and structural repairs to ensure that your restoration is complete, sending a professional mason to your property to assess your needs and provide you with an expert solution. 
Importance of Historic Renovation and Restoration
There are many benefits of historical renovations and restorations, including:
Education
Preserving historic homes and buildings helps educate people about the building's past as well as the community around it. Renovating a historical property keeps it fresh and looking as good as new.


Culture
Restoring historic buildings holds a large piece of connection with the past. Historic buildings are a piece of history frozen in time that helps create a sense of culture and nostalgia. The unique characteristics of older buildings are often challenging to replicate, but command attention.


Economy
Historic renovations can boost the local economy. Tourists love to visit restored, older structures and take a step into the past for a moment. Preserving brick masonry structures also creates jobs as we work to restore the building back to its former perfection.
Mountain Masonry restoration's team of skilled technicians is more than masons. At our family-owned business, we consider ourselves multi-generational masonry contractors that are passionate about repairing and restoring historic buildings. We've completed thousands of maintenance and repair projects throughout Colorado and surrounding states.