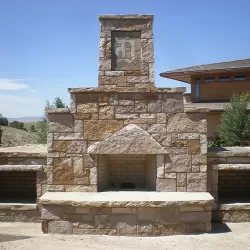 Mountain Masonry is a reliable and experienced masonry contractor you can depend on to get your new brick, stone, or block home built and looking beautiful for many years to come. Mountain Masonry is family and locally owned and operated and fully licensed and insured. We can help ensure your new masonry brick, block, or stone construction build is a success.
Our experienced technicians and professionals are here to answer all your questions to determine the best way to incorporate masonry aesthetics with your new home construction project. Our estimating team works closely with general contractors, architects, and engineers to provide budgeting and estimating services while offering trade specific consulting to meet the project requirements.
For many centuries now masonry has been an integral part of building and construction. When it is well built by experienced and skilled masons then it should last a very long time as well. Modern construction offers various ways to incorporate masonry into our properties and structures.
Mountain Masonry should be your first and only choice as a masonry contractor when you are looking to add
stone columns
retaining walls
chimneys
fireplaces
outdoor fireplaces
pizza ovens
patios
walkways
Full-Service Masonry Contractor
The professionals at Mountain Masonry have the experience and trade knowledge to provide you with building design, masonry product installation, and value engineering solutions. We use advanced estimating software to precisely calculate the cost of your project and develop a 3D model of your project to verify our take-off matches the drawings.
Our leadership team will partner with you every step of the way; from providing value engineering solutions, to mobilizing our team to meet your schedule, attending project meetings and working through design changes. 
We thoroughly understand masonry, from fireplaces to chimneys, stone siding and stone walls. No project is too large or too small. Mountain Masonry will always provide you with quality services equipped with reliable work for new construction, multi-housing, commercial, and residential customers.
Mountain Masonry specializes in brick, block, and stonemasonry as a full-service masonry contractor. We have built a solid reputation through the years based on quality work, cutting-edge techniques, and customer service. We specialize in high-quality masonry work for new residential and commercial construction, historical repairs and restoration, design build, estimating, takeoff, shop drawings, and 3D modeling.