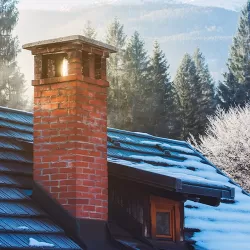 The professional masons at Mountain Masonry are familiar with every aspect of chimneys and perform expert chimney repair and restoration. We can help resolve unsightly, discolored, cracked and missing parts of the brick and other masonry around your chimney. 
At some stage during your home-ownership, the chimney will more than likely need some sort of repair or maintenance. Mountain Masonry can repair damage before it gets worse and offer suggestions to prevent further deterioration of your chimney. Mountain Masonry can restore and repair your brick chimney by addressing:
Loose brickwork
Broken masonry on the outside of the chimney
Broken pieces of clay or brick in the fireplace
White staining on the exterior of the chimney
Cracked chimney crown
Chimney masonry repair is needed when the structural integrity of the chimney system is compromised.  Whether caused by moisture on the outside of the chimney or by the combustion process on the inside of the chimney, the longer structural damage goes without repair, the worse it gets, until complete rebuild of the chimney becomes necessary. 
These situations can be dangerous, since a damaged chimney structure can lead to a fire.
Prevent Further Chimney and Structural Damage
Mountain Masonry also performs clean and effective tuckpointing, which is the removal of old, damaged mortar and the packing of new mortar in its place. We'll leave your mortar joints durable and attractive, just like if they were brand new. With chimney repair and restoration services from Mountain Masonry, you can benefit by:
Not having to worry about a hazardous chimney causing further damage to your home or property
Preventing chimney fires
Preventing toxic gases from escaping into house
If a chimney is exposed to too much water because of the flow of rainwater on the roof, we suggest the installation of a cricket, which diverts water away from the chimney.  Waterproofing of the chimney can also help to slow the damage caused by excess water.  Another example is that flashing, the metal wrapping where the chimney meets the roof, may need to be replaced. Water leaking in the attic can result from chimney flashing problems.
The masonry professionals at Mountain Masonry can help with repair, masonry rebuilds and replacements for your chimney. Our masons are experts in all facets of the industry, including modern and traditional masonry techniques, masonry history, and bricklaying patterns.